What My Clients Say
Find more recommendations on Facebook!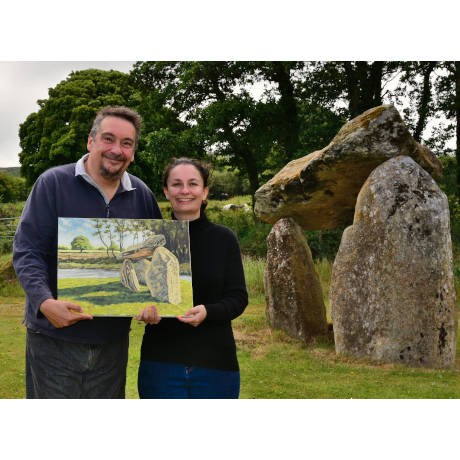 "Dad absolutely adores the painting, he is chuffed to bits, it's hanging up proudly in the living room - so, I cannot thank you enough, we all think it's great, something that will be cherished for years to come - it was lovely to come down to your studio and meet you also."
- Heulwen Thomas, Wales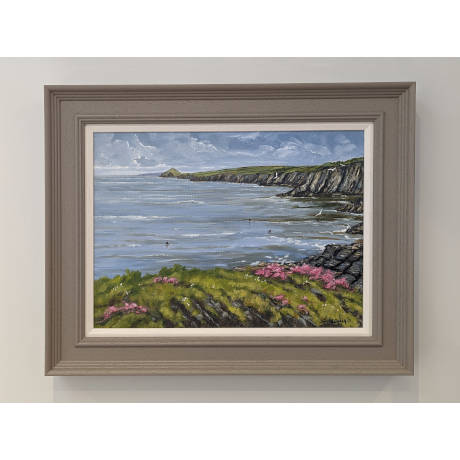 "It was a really enjoyable experience seeing Chris bring my photograph to life. He offered sound advice throughout and gave me options I wouldn't have considered to enhance the finished product - this made it feel very personal. Very clear communication throughout. I am thrilled with the end result as is my wife as it was a gift for her - see accompanying photo. I would highly recommend."
- Kevin, Buckinghamshire, UK.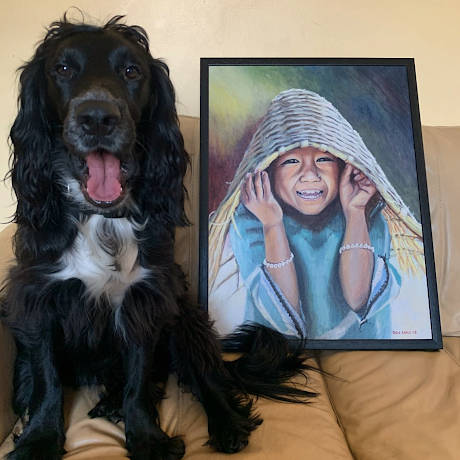 "I thought I'd email you as I have probably one of your most beautiful paintings, I guess I'd say that because I'm biased. I bought the beautiful Nepalese Basket Girl way back when I visited an art shop in Cardigan. I absolutely fell in love with the painting as soon as I saw it. There isn't a single person I know of who hasn't admired the painting when visiting my home. Even a Baroness from the Houses of Lords admired it during a zoom meeting. "
- Nerindra, Derbyshire, UK.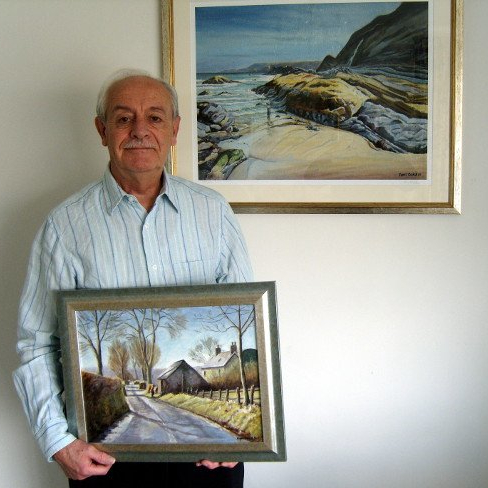 "I am delighted with the pictures which represent a great example of your skill and artistic talent. They also remind me so much of happy times spent in West Wales many years ago."
- David Williams, UK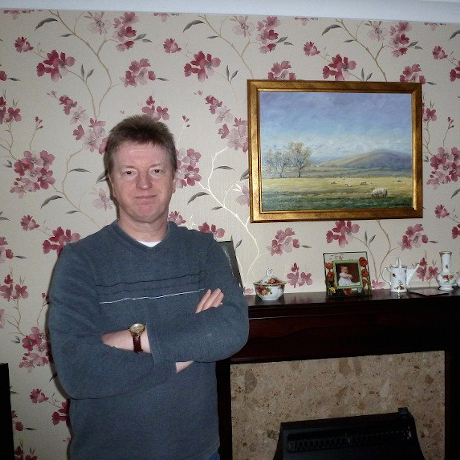 "Hi Chris, We received the painting today. We both think it's brilliant. You certainly have a great talent. We're going to look for a frame this weekend so hopefully it will be up on our wall within a week. We'd definitely buy something from you again, and I'll recommend you to friends and relatives. Many thanks again."
- Martin & Gill, UK.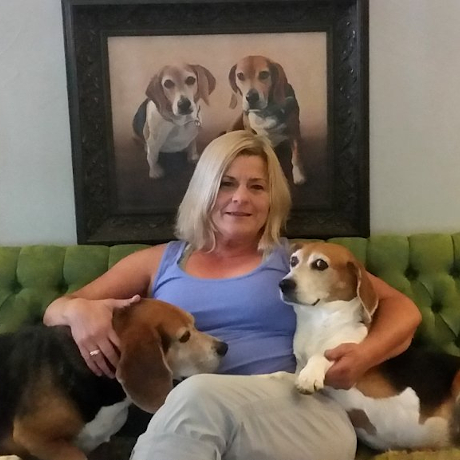 "I enjoy this beautiful painting everyday and I'm in awe of the incredible talent of artist Chris Chalk, who created it. His Welsh landscape paintings are absolutely stunning and his pet portraits are truly phenomenal! I am so grateful to be able to say I own one of each. Many thanks to the amazingly creative and talented Chris Chalk."
- Traci Morgan, Canada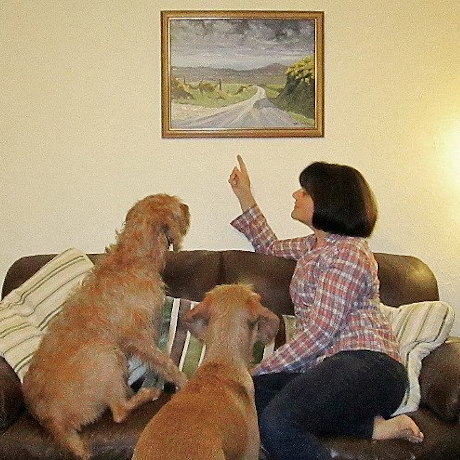 "Hi Chris, postie has just delivered my beautiful painting!!! all safe and sound......looks fabulous! thank you so much, now to hunt down a really nice frame to set it off, can't wait to show Martin when he gets home, I know he will love it too - THANK YOU!!!"
- Kay Prior, UK.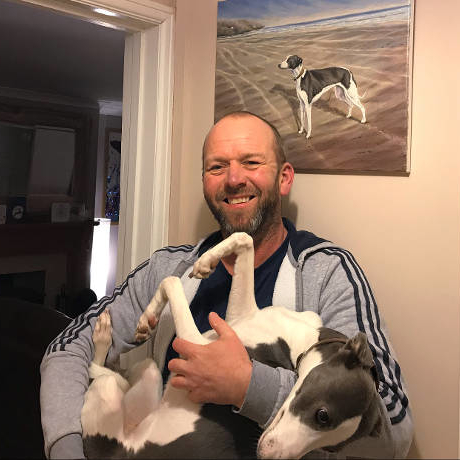 "Thank you Chris! The Holly picture is stunning. Mick's absolutely made up... and didn't have a clue!! "
Mick Tomlinson, UK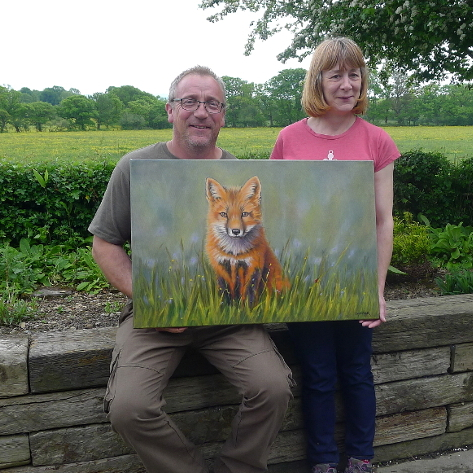 "We love the painting Chris, we've hung it in the bedroom for now, but we're going to hang it above the fire in the lounge as soon as we've made room."
- Phillip and Sarah Bentley, UK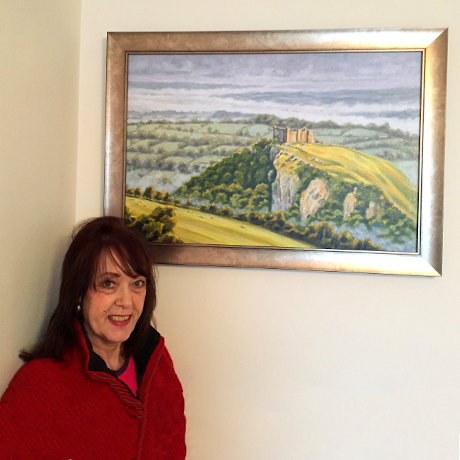 "Thank you very much for all your hard work and patience in creating my commissioned painting of Carreg Cennen Castle. We are both delighted with the end result. It is so atmospheric and a wonderful reminder of our beloved Wales."
- Coreen and David Griffiths, Scotland.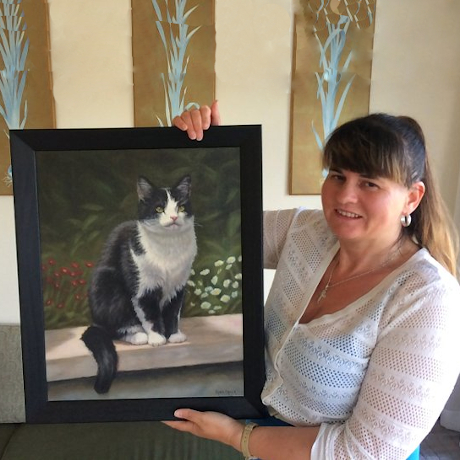 "Hi Chris, Jackie loved her painting of Ben. I managed to get it framed in a black wood grain chamfered frame, before Christmas and I wrapped it in gift wrap with another photo of Ben all over it; to make it an extra special gift. See attached photo of Ben with his Mum."
- Liam Sparrow, New Zealand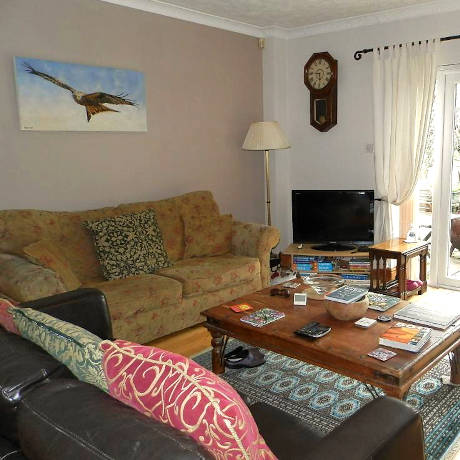 "Lovely to see you and your fabulous paintings today, I'm not sure I'd realised Adrian was going to buy one (I have a vague recollection)."
- Adrian & Marion Tyrrel, Wales, UK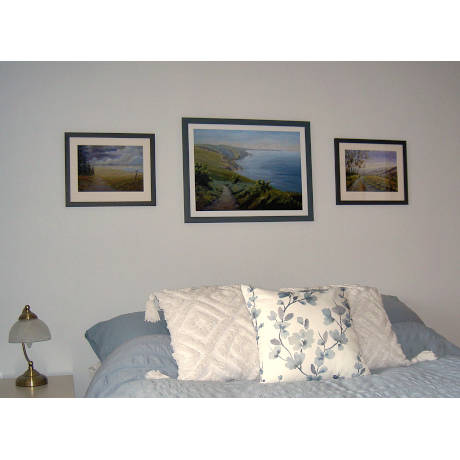 "I have my prints framed and on the wall now - photo attached as promised. I love the prints, and for me they are telling a story.... I will always choose the path less travelled, and walking the Ceredigion Coastal Path was just such an adventure; quiet, beautiful and completely unspoiled. Then the afternoon stroll is clearly myself making my way home....! So thank you for these - I am really delighted with them, as you can tell."
- Rosemary Pritchard, Wales, UK
"We just got back from England and very happy to be able open and frame my lovely print. I remember first seeing this one and loving it so much! Can't wait to see what you paint next. You are an inspiration. Thank you again!"
- Kirsten Sneath, USA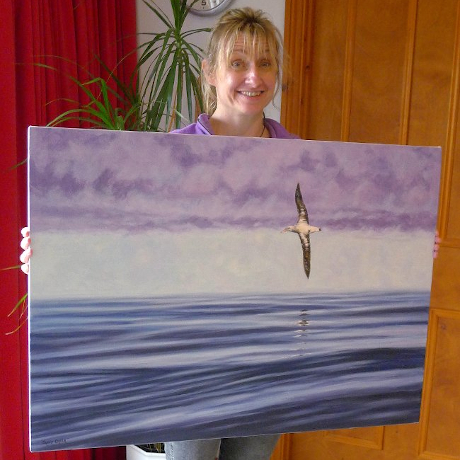 "I fell in love at first sight with my picture of the albatross. Chris really captured the majesty of the bird and the little details make it very special. It has pride of place in my living room."
- Sam Bedingham, UK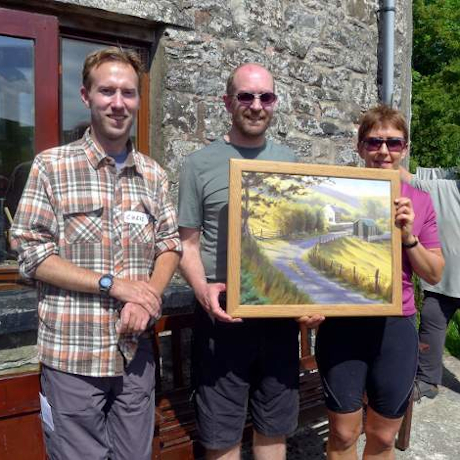 "Thanks you so much, Chris, we are delighted with our painting of Ty'n Cornel."
- Elenydd Wilderness Hostels, UK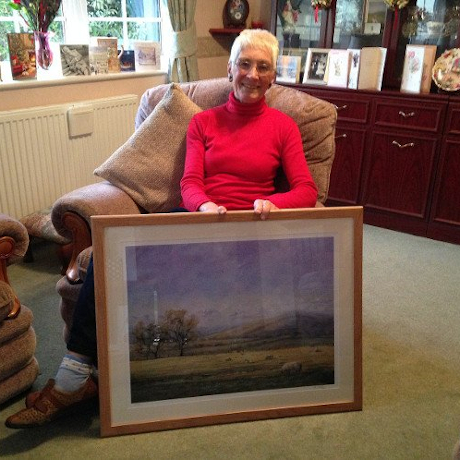 "After you left, I had a really good look at the pictures, I decided that it would be a shame not to have at least one hanging where I can see it and gain so much pleasure from it straight away, so I have managed to put 'Cenarth' in the dining area. It does look lovely, it really does, what a talent you have."
- Sandra Griggs, UK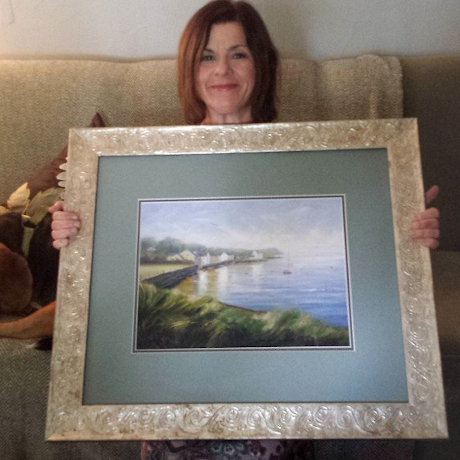 "I am the very delighted to be the proud owner of one of Chris Chalk's masterpieces! He is an absolutely extraordinary artist. I love how he captures the true beauty in his incredible landscapes of Pembrokeshire! ..I received this painting as a wonderful surprise on my Birthday, this year and was overcome with emotion....love, love, love his work!!, Tracy."
- Tracy Morgan, Canada.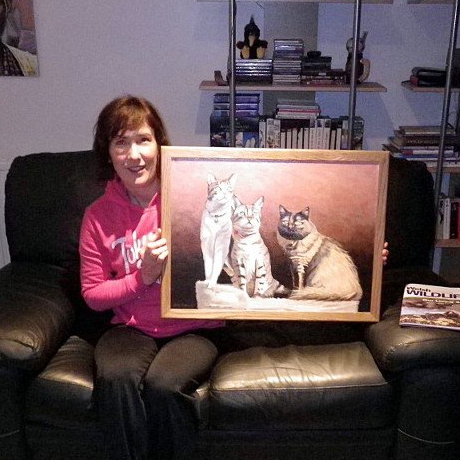 "I love it Chris, thank you for all your hard work, it's perfect - thank you so much."
- Beci, UK.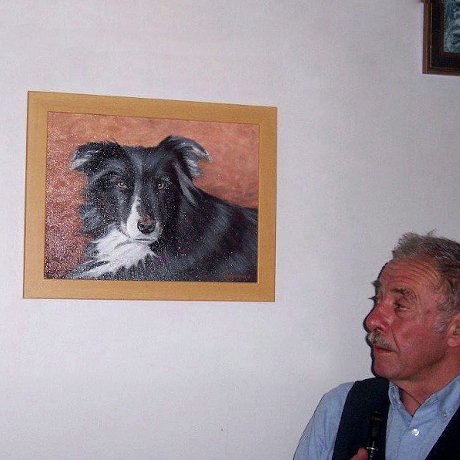 "Chris, Portrait has just been 'unveiled' and we love it. In fact brought a few tears. Sprockett is now immortalized. Thank you very much."
- Elaine Hamnett, UK.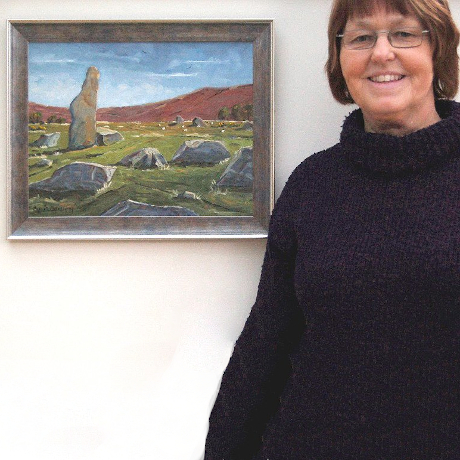 "I've tried the picture in various places around my house and have now found the perfect site for it, in my conservatory. Here it catches and reflects the light and almost glows."
- Christine Chalk, UK.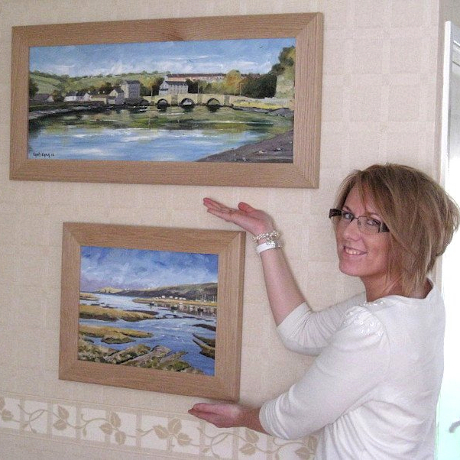 "Hi Chris, I'd been scouring the internet looking for quality art, occasionally I liked one or two pieces out of an entire artist's collection. In sharp contrast I came across your work which I adore so much, after two trips to your south Wales studio and eight original "Chris Chalk" paintings later, my living room walls are festooned with large inspired and relaxing pieces of landscape artwork."
- Karen Jackson, UK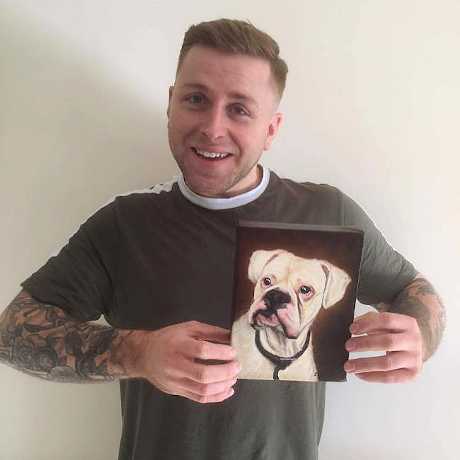 "Thanks so much Chris, I love it, you really captured him!"
- Gareth Davies, UK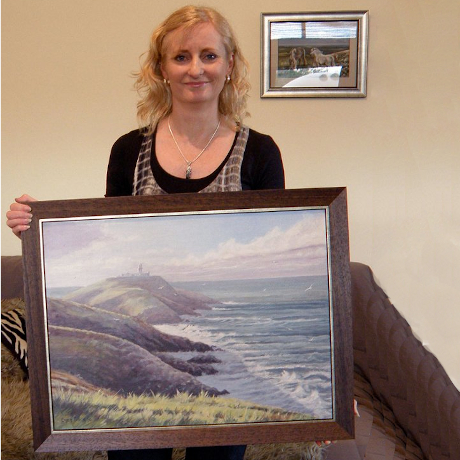 "Thank you so much for my beautiful painting, Chris. It reminds me of our wonderful day out at Stumble Head with Jo, and saying hello to those very friendly woolly ponies."
- Karen Neal, New Zealand.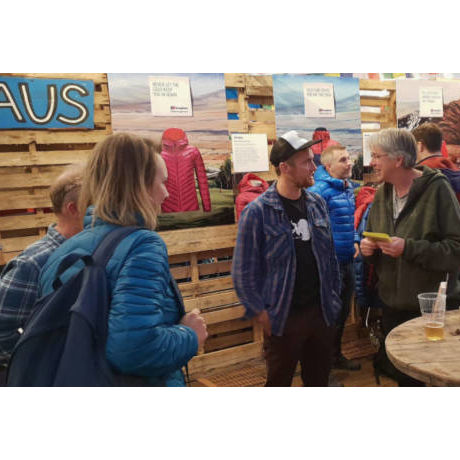 "Thank you for being amazing on this project Chris, and I look forward to seeing the work out in the world!"
- Ben Waters, VCCP for Berghaus, UK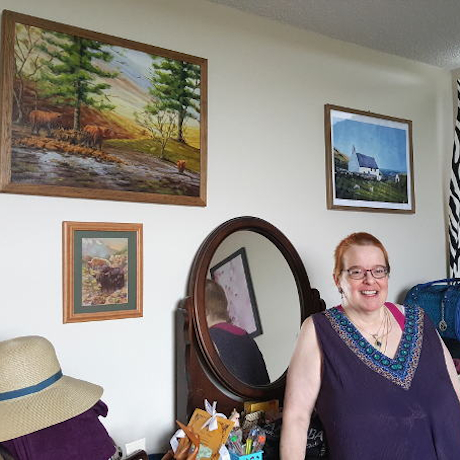 "Hope you're well, I've attached two pics of me with with your gorgeous art."
- Jackie Barker, Canada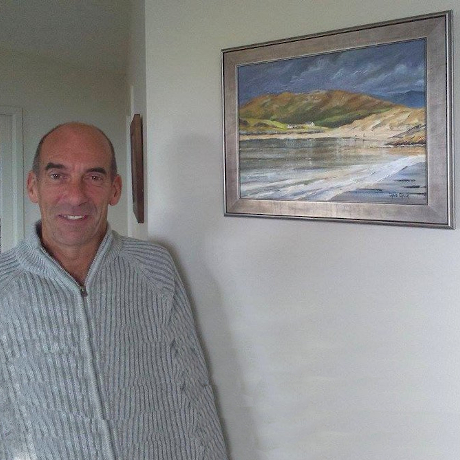 "David was thrilled with your beautiful painting of Camusdarach Beach, between Arisaig and Morar in the West Highlands of Scotland. Camusdarach is one of David's favourite places, however as he now lives in New Zealand's South Island, he rarely has the chance to visit. Thank you, Chris, for creating such a gorgeous landscape of this beautiful and special place."
- Angela Taylor, New Zealand.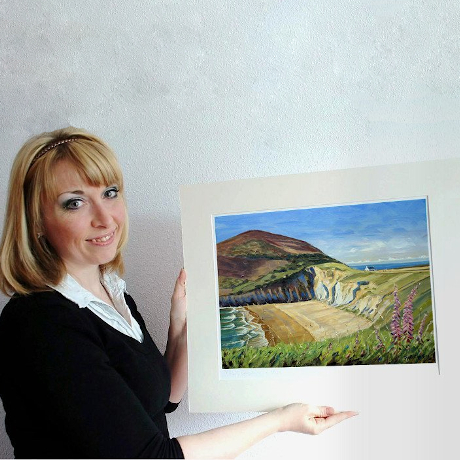 "Beautifully presented, looks almost like the original piece of work, the colours are superb but mostly, it reminds me of my buddies who I was fortunate enough to spend a few lovely days with and this picture will always remind me. You have a wonderful talent at capturing that raw presence and beauty of Ceredigion."
- Karen Berisford, UK.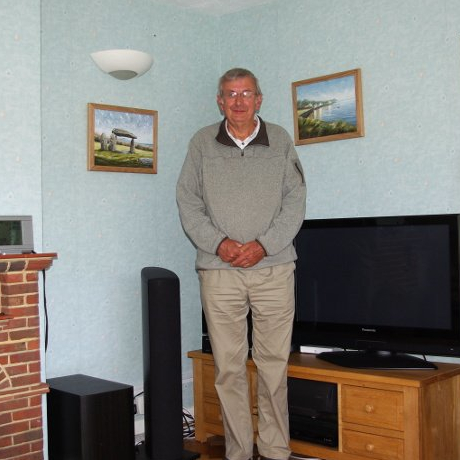 "The latest of many visits to my beloved Pembrokeshire, I have returned to Gloucestershire with two very contrasting mood pictures to help to draw me back. Pentre Ifan with its cloudy sky and glimpses of Carn Ingli and the sea at Newport connects me with the history and spirituality of the area. The Parrog at Newport with Dinas Island in the background is just full of happy family memories. Thank you, Chris."
- John Taylor, UK.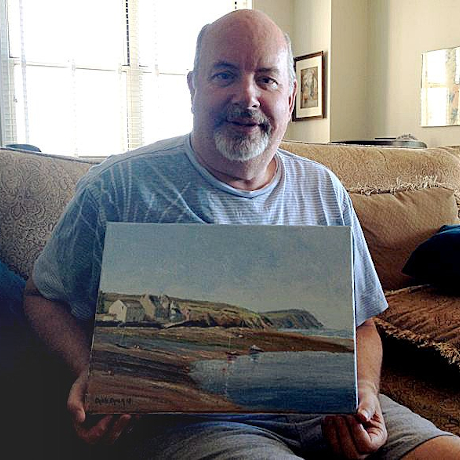 "The painting was received a few days ago, and we both love it. It's a calm scene, yet it has interest to discover as your eyes settle on the smaller details, and the texture of the paint is also very well done. Colors are wonderful and true to reality. I think John will be touched beyond belief that I went all the way to Wales (electronically speaking) to buy this for him. Tomorrow is our anniversary."
- Barbara Breen, U.S.A.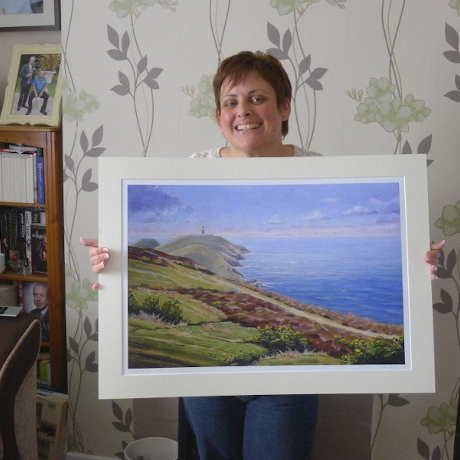 "Hiya Chris, Just wanted to say that I received the print of 'Summer at Strumble' from Catrin Rotie today. She wouldn't let me wait til next week to open it lol. What a beautiful scene and what a great 30th Birthday present. It's where myself and my partner went walking at Strumble when we first starting seeing each other, so it means a lot. Can't wait to get it framed and on my living room wall."
- Laura Jones, UK
"Thank you so much for the beautiful painting, I absolutely love it, and it is the first piece of artwork I have ever owned. You have brought Scotland home to me!"
- Kali Crofts, Queensland, Australia.
"I'd been admiring Chris' work for months before I bought the 'boy monk' painting. Once I'd decided which painting I wanted, Chris sent him straight away. It's a wonderful painting and looks great without a frame (for now!). He's been in most of the rooms of the house although seems settled now at the top of the stairs. Thanks Chris :)"
- Allegra Gee, Bournemouth, England, UK.
"The painting arrived a couple of days after you posted it and it is a fabulous painting. I am extremely pleased with it. The picture on the website doesn't really do it justice. In real life the colours are a lot more vibrant with what looks like real whiskers and fur, as well as those eyes that follow you around. One very happy bunny"
- David Altham, Chorley, Lancashire, UK.
"I received the print this morning and it's even more beautiful in real life than on the website! It was a present for my dad and he loves it too! Thank you again, so much."
- Annabel James, Haverfordwest, Wales, UK.
"Hi Chris Just to let you know the painting and print arrived on the weekend but I was away so picked them up today. Very pleased with the painting, think our family friend will love it as a birthday present so thank you very much! And my Mum loves the print as well! Will be in touch in the future...quite fancy a coastline at some point, possibly Newgale!"
- Sian Wynne, Cardiff, Wales, UK.
"Hi Chris, Just letting you know that we received the print on Fri.....Thanks very much! We love it! Have a great Christmas"
- Alice and Sam, Sydney, Australia.
"Hi Chris, I have been anxiously awaiting for my painting to arrive in the mail...you weren't wrong about the 2wks it took for it to arrive I couldn't contain my excitement as I collected...I absolutely love this painting, the colours just scream out at you when u look at it, you are very talented and it shows in your paintings, the way you blend the colours...to bring the painting to life...thanks for my 'Autumn Forest Walk'....one can marvel at it for hours."
- Rita M, Sydney, Australia.
"Hi Chris, Just to let you know that both the painting and my receipt turned up safely yesterday. Once again Thanks to you and Anne for your kind assistance. When I am next in the area I will certainly call into the gallery. We look forward to dealing with you in the future. Kind regards."
- Linda Rees, Swansea University, UK.
"Hi Chris, I have received the print. Arrived promptly on Wednesday in excellent condition. The print itself is fantastic. I look forward to another purchase in the future! Kind regards"
- Rhodri Rowlands, South Wales, UK.
"Hi Chris. The picture arrived this morning while we were still in London, a neighbour signed for it and has only just brought it round to us. A huge thank you, I will get it framed now and we will be presenting it on Friday next week, to the retiring chairman of British Lung Foundation Wales. I am sure he will be delighted with it."
- Margaret Barnard, Neath, South Wales, UK.